Rymdskeppet Alfa, January 22, 2010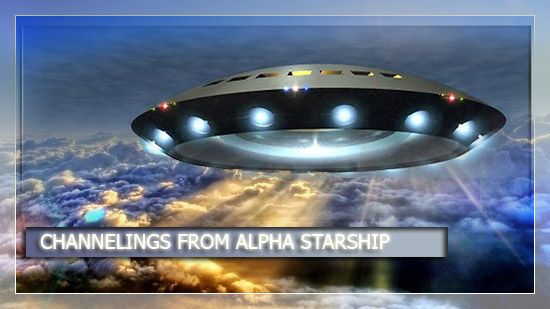 Hälsningar från Alfa Spaceship!

Den här förmedlingen kommer att bli kortfattad och ges inte som den brukar av Rymdskeppet Alfas befälhavare, utan jag kommer att ge den. Jag är Amiral Joesi, jag använder ett sätt att stava mitt namn så att ni kan uttala det så som det låter på vårt språk (you see), ha, ha, ha. Jag kontaktar inte vår kanal från vårt moderskepp som vi brukar, utan från planetens yta. Vi har gått ner med en grupp tekniker, vetenskapsmän och forskare för att utföra ett uppdrag på ytan.

Det budskap jag skulle vilja föra över till er är, att ni kan vara säkra på att vi inte stannar i samma position eller intar en passiv attityd och ser på hur ni uppför er under den här övergångstiden. Det ungefärliga antalet stora, medelstora och små farkoster som för närvarande utför uppgifter på planeten varierar mellan 18000 och 20000 skepp. Som ni ser har vi en hel uppsättning folk, som genomkorsar planetens atmosfär. En del är som vi, tillfälligt baserade på planetens yta, andra befinner sig under oceanerna, under djupa sjöar eller floder.

Vi är med er, kära bröder och systrar, ni är inte ensamma i dessa svåra stunder. Var säkra på detta, och tro på framgång med våra operationer, så att inte rädslan får er att tappa modet, och ha tilltro till vårt stöd och vår kontinuerliga hjälp.

Nu fortsätter jag med mitt uppdrag, jag ville bara ge er mera tillit, för vi har upptäckt att det hos en del av er (hos fler än en) finns en känsla av att ni är övergivna av oss, och det är verkligen inte fallet!

Alla i det team som medverkar i det här uppdraget på planetens yta och nu tjänstgör i flera dagar och nätter, hälsar till er. Vi vill visa er vår kärlek och önskar ett förtroendefullt samarbete med er.

Soroah Andi Mahua!

Admiral Joesi från rymdskeppet Alfa.

Kanal: Cristian




Dear friends,
Alfa Starship have started transmitting messages through Cristian since January 2010.
Our brothers and sisters of outer space would become very joyful if their messages can be translated in as many languages as possible.
If you resonate with their messages which are published here and are able to translate to any language or know someone who would be able to do it, please send an e-mail to
keeluad@gmail.com
.
We are already translating in English, Spanish, Portuguese and Dutch, but any assistance in translating them into any of these and other languages is welcome.
Thank you.
Light and Love,
Adriano.









Galactic Channelings

Create Your Badge


Join the Galactic Channelings Community on Tsū!
Tsū is the only social network that shares its revenues with its members.
It works through invitation only, so you can use this link
to create a profile.