include("pappie.php") ?>

SaLuSa, September 12, 2011


It is a case of biding your time, as you perceive matters moving along at a quick pace that is surprising in view of where you were just a year ago. Whilst you had been hoping for the elusive announcement of Disclosure, other factors necessary to completion were also receiving a lot of attention from us. The result is that once we can get started, you will find yourselves on a bit of a roller coaster ride. However, it will be an enjoyable experience and carry you forward on a wave of joy. Life cannot go on much longer as it is now, but if enlightened you know what to expect, and it should keep you in high spirits.

At a time when your memories of a most shocking day in your history have been revived, you will need to keep your sights on Ascension. Feelings will be felt again of the pain and sadness that resulted from it. It will stir up resentment again against those considered responsible, but there will be a balancing because of those who know the truth. In the time that has elapsed since 9/11 many have learnt that the truth bears little resemblance to the official line. That in turn can evoke anger at those who perpetrated such an evil deed against their own people. However, we would beseech you to allow destiny to look after the outcome, because no one gets away with any crime against Humanity. Look upon it with a degree of indifference but not because you do not care, but because you can take it in your stride. The Light is needed just as much at this time as ever it was.

We have seen you tackle the dark Ones as we expected, as the Light cannot be held back for ever. It has grown in spite of attempts to create fear and many distractions. The army of Light has proved it is more than equal to the army of darkness. The plan for your spiritual enlightenment was made a long time ago, and the White Brotherhood made sure that many great Beings incarnated on Earth to create the Grid of Light. We are referring to all of you who have awakened to your tasks, and yet you may not realise what an important role you have played. Do not underrate yourselves, as you are part of a superb team that works quietly without seeking fame or publicity, and you are dearly loved by us all who are watching over you.

Recently Mother Earth has been relatively quiet, but that will change as the need for cleansing grows more urgent. We are fully aware of what to expect and we do co-operate with her. There is certainly not going to be the catastrophic events predicted by some quarters, and it is as well to bear in mind that many changes have been made to the end times. You can take some credit for them, as the levels of consciousness have risen considerably in recent times. Simply look upon the future as full of probabilities and expect the best outcome, and that way you will continue to add to the existing Light and have nothing to fear.

As we so often ask of you, keep solidly focussed on the result of all the changes because they will lift you up very quickly, and deal first with the major ones that are keeping you back. In one way and another the lack of money has become the most disturbing factor, as it has repercussions for everyone. What governments are gong to learn, is that no matter what they do to restore the old system of finance it will not work. It has been collapsing for a long time and only propped up by printing more money, which is no lasting answer. Our allies have established a new structure that will ensure no repeat of the financial fiasco you are involved in. It will succeed, because it offers a secure way out before the problem becomes even more serious.

We wait upon various leaders to accept that they have no alternative but to go along with the plan for Ascension or resign, as the right people must be leading you through the final days. They will be motivated by their desire to lead you out the mess you are in, and put in place systems that respect your rights and sovereignty and we will of course will be working with them.

I am SaLuSa from Sirius, and know that you are sensing the nearness of Ascension, and the path to happiness is opening up so that we can walk hand in hand with you, in Light and Love. Bless you all Dear Ones.

Thank you SaLuSa.
Mike Quinsey.
Website: Tree of the Golden Light






Our reply:
"hi lia, thanks for your comment and kind words. to my understanding, the changes that you're talking about will start before ascension to 4D and continue afterwards when we move right on to 5D.
ascension is a technical thing and will happen no matter what, whether we prepare for it or not. it has to do with the energies coming from the central sun reaching the earth, which create the universal cycles and contain the blueprint for all life. that will happen by the end of 2012, and as our vibration will rise significantly, this will mean the end of all dark activities and entities on earth. every soul will end up where his own vibration takes him, and for the people whose consciousness (= vibration) is high enough to go along with mother earth, this will mean ascension to 4D.
these are the "3 days of darkness" that is often spoken about, which as i said
before
, shouldn't be taken literally in my opinion. 4D is not that different from 3D, so the changes in leadership and society will just continue then. disclosure is of course set to happen before ascension, so everybody can prepare for what's coming. but when this will happen, i don't know!
much love and light to you -
kees, GalacticChannelings.com
." (September 15, 2011)

| | | |
| --- | --- | --- |
| | | |

include("DM.php") ?>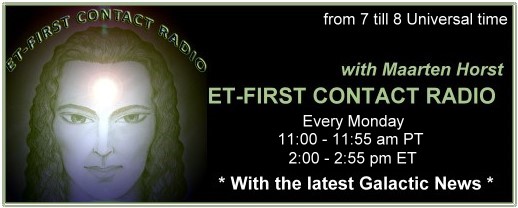 Every Monday night from 8 to 8:55 pm
channelings and related matters are being discussed on First Contact Radio.
The show is hosted by Dutch lightworker Maarten Horst and is presented in English.
You can support the show and take a subscription to the rich archives of BBS Radio here.

include("voetnoot.php") ?>