Please join the $1,11 donation action from The Golden Age Of Gaia
From our friends over at The Golden Age Of Gaia, a good initiative that we fully support. Steve Beckow and his team have often helped out other lightworkers in need (among which myself), so I hope that many of you will join the $1,11 per month donation action!

Donations can be made here.

Kees - GalacticChannelings.com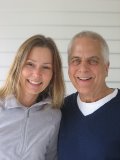 Kathleen and Steve from The Golden Age of Gaia




Folks, we're at the end of the month and it's time Kathleen and I issued our invitation, to those of you who have the financial means, to support that which you love and that which is important to you: and that is this blog, the Golden Age of Gaia.

We're doing our part to lead in this work, send out the Light and gather the momentum we need to build Nova Earth. We need you as partners in that endeavor to financially support our work.

We've proposed a $1.11 voluntary month subscription and many hundreds of you have responded. But that plan will only fully blossom and prove sustainable when many thousands of the estimated 20,000 current readers respond.

So we're only partway there.

Moreover, we still need the once-only donations of much larger amounts if we're to meet even our basic minimal needs for this next month. This will continue to be needed until the volume of small monthly subscriptions takes over and allows us to continue on without needing to keep our attention on sustainability.

When we discussed subscriptions with lightworkers along the way, one asked me to give a comparison of what $1.11 could buy. A cup of coffee a month? A muffin? We had to give the effort up because we couldn't think of a single thing $1.11 a month could buy. Not even a package of gum!

Your contributions go to support the teams and operations of this blog, the Hope Chest, as well as InLight Radio, which currently offers Heavenly Blessings, An Hour with an Angel, and Cosmic Vision News. InLight Radio is discussing offering programs designed to connect and knit lightworkers together, following on from what we've learned on our trip.

Through the "Site and Team Donations" gateway, your donations pay for the operating costs of the Hope Chest. Through the "General Lightworkers" gateway, they assist lightworkers who face homelessness or medical costs lightworkers cannot afford, etc.

So, if you wish to be part of this exciting, enjoyable and inspiring work that's been made available to us – to create a new society run on the basis of love and sharing – please accept our invitation to contribute to the blog.

Thank you to all of you who have accepted our invitation to contribute. We know that you know that giving – sharing – brings joy and love. And it makes this blog "your" blog. We welcome that from many standpoints, not just sustainability.

And thank you to everyone who graciously hosted Kathleen and I through California, Oregon ad Washington and contributed to the costs of our trip. Please maintain and increase the momentum gained. Every step you take to realize and operate your projects adds to the energy in the collective consciousness for building Nova Earth. As Arnold Schwarznegger might have said but didn't: We will return. To visit our many friends.


By Steve Beckow


Donations can be made here.












| | | |
| --- | --- | --- |
| | | |



Galactic Channelings

Create Your Badge