A Call for Helping...Me - UPDATE


UPDATE, March 2: Dear friends,

We have been completely overwhelmed by the support that we received since I put up my 'call for help' on February 7. We received so many donations, sweet e-mails, letters, advice on how to deal with the banks, even some job offers and people offering us a place to stay if things might really go wrong here. It was a tsunami of love and support. Although I had hoped for some response of course, I wasn't prepared for such an outpouring of love. As I wrote to our friend Steve Beckow, who made a big contribution to the success of the action by spontaneously putting it on his own website Golden Age of Gaia, I was just all over the place during the first few days. At times I couldn't believe my computer screen, as the Paypal notifications in my mailbox just went on and on and on.

I don't think I can ever put our gratitude into words. They say that when we cross over to the higher realms at the end of our lives, we experience all the feelings that we caused to others during our lifetime. Well, let me just say that when you get to the point where you contributed to this action and you experience our feelings, you have something fun to look forward to :)

As a result, our immediate worries have been resolved. In fact, I already used some of the money for helping others. If you still feel like donating a single donation, I would recommend Steve Beckow's Hope Chest, because they continue to help others with the money that they receive, especially people of light and lightworkers.
If you would like to make a very small monthly contribution to us, that's still welcome, because that will give us some certainty for the future. We still don't know what the situation with the bank and our house will be, it's a long process. But we know we'll be fine no matter what. Especially after experiencing this tsunami of love and support, that completely refreshed our spirits! We will be forever grateful.

When the first donations and messages came in, I started replying to everybody personally, but after a while I realized that that would be impossible. I didn't want to copy&paste the same message of thanks over and over again, in order not to take any donation for granted. But I think a single message to you all at this time works better, so I can spend the rest of my time on the lightwork that I continue to do full time. I hope you agree. We send you our love and our eternal thankfulness. A big hug to you all



Kees.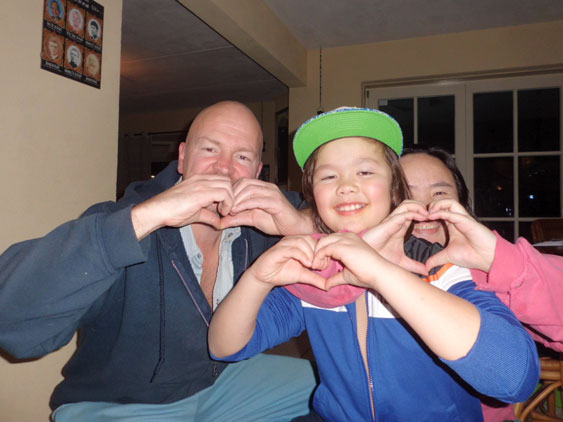 Original message of February 7:

Dear friends,

I don't usually make a habit of talking about myself on this site, and I hope I never have to do it again. But I feel I need to do it now.

<== This is us.

My name is Kees, my girlfriend is called Hsiu and our son Kim. I'm the webmaster of this website and a couple of other spiritual sites like The Greater Picture and Visualize Daily. I post translations of channelings that come in from the members of our team every day, do research for The Greater Picture, answer e-mails from people with questions and occasionally create a video or organize a mass mediation/visualization.
I'm working on a new site which lists all natural cures for cancer and have plans for a new website where all people who like to join the "peaceful resistance" against the system can get together and form action groups.

Our friend Steve Beckow once wrote a piece about me here, if you'd like to know some more. Although I have some revenues from non-spiritual websites (which is really my job), I've practically been a full time lightworker for years now. I prefer to work in the background, I don't really enjoy being in the spotlights. According to Dolores Cannon, this is a trait among lightworkers that's quite common :)

I keep our websites free of advertisements, so they stay as pure as possible. I pay for all the expenses myself.

Although I love what I do, things have gotten pretty tough lately, financially speaking. I'm not complaining, because I know that many others have it even worse than us. And as long as we love each other and we're healthy, there's nothing to really lose sleep about, I feel. But this money thing does pose a problem to us. The way things look now, we will lose our house pretty soon, because the bank is taking it. If that happens, we don't know yet where we can go.


I can't deny that it would mean a huge relief for us if we could get some support here. I know it's not very common for spiritual people to ask for help, as in general we'd rather give than take, I think. And in the end we know everything will be alright anyway. I'm no different - I've never asked for anything, while I've always tried to help out others as much as I could. So I don't do this easily. On the other hand, I don't think it's a shame to ask when it's really needed.

So...I had an idea. I don't know if it will work, but knowing how much I've always enjoyed helping others, be it with money (when we still had it) or otherwise, I thought I'd just give it a try. Our websites have thousands of visitors every day, so let's see where it leads to.

So, here I go. It's a very simple action.



I'm asking you to donate 1 dollar (or euro) each month.


No more! Well, you can donate more if you like of course, but the idea is to:

a) Make it an amount that you really won't miss

b) Do it monthly.

It's just a matter of trying to get the law of great numbers to work. So, if you can miss it, please donate 1 dollar/euro to us monthly. I promise that we won't use any of it for luxuries, just for "the bare necessities of life". If we might reach an amount that's excessive of that, we'll help others with it.

That's all! I'm just sending this message into the world and hope it will find some loving hearts, willing to lend us a helping hand.

You can donate through Paypal:






The email address connected with our Paypal account is keesdegraaff@gmail.com

Or, if you want to do it by bank transfer, you can donate to:

IBAN number NL28INGB0001548315, BIC/SWIFT: INGBNL2A, ING Bank, in the name of MBC de Graaff, Den Haag, Holland.


Thank you very much, from the bottom of our hearts. To the people who'd love to help out but can't spare even 1 dollar a month (I know they're out there), thanks just as much. I hope it's only temporary, and if signs all around us (including in the channelings) are not mistaken, it will be. When we've gotten back on our own two feet and we can support ourselves again, we'll let you know immediately. It's just a little band aid that we need, for now. Thanks, and a big hug to you all



In Love and Light,

Kees.












| | | |
| --- | --- | --- |
| | | |



Galactic Channelings

Create Your Badge